The Finest Man and Van Services in London!
If you're looking for man and van services in London, then you've found the right people. We are Moving Day, and we are a leading professional removals company, based in London. However, our reach extends far beyond the borders of our capital – we collect, transport and deliver all over the United Kingdom. What's more, we offer every kind of removal service you can possibly imagine! Man and van services in London are about much more than providing members of the public with a van and a strapping removal van, and whilst lesser firms think it's enough to simply offer vans for rental and movers for hire, we're dedicated to providing everyone we serve with a legitimate end to end service. Best of all, all of our removal services won't cost you an arm and a leg – we believe fervently in the value of competitive pricing! Whatever you need man and van services for – whether you're moving to a new home or business residence, need to transport valuable items to a storage facility or take excess detritus to a dump, or collect things you've purchased over the phone or on the internet – we are a mere phonecall away. We have a truly comprehensive range of moving vehicles and an extensive pool of moving staff to ensure we can provide you with exactly what you need every time! Give us a call now on 020 8746 4377, and we'll supply you with a free quote over the phone – and there is no obligation to take us up on our offer!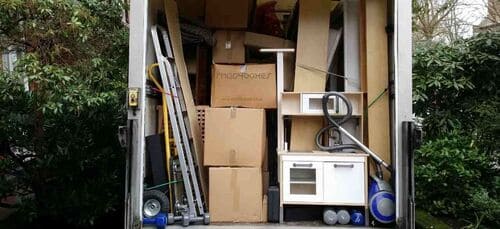 We are London's premier man with a van service company. We have achieved our market position by being passionate about what we do, and passionate about customer satisfaction. For many years – ever since our establishment, in fact – we've been at the vanguard of man with van moving services in London. Our experience has taught us that removal services aren't simply about offering people a van (and a man!), cramming the van with their belongings and getting the cargo to a pre-arranged location. An efficient, professional approach is paramount, and customer service is key. We never shirk on the job, and simply love helping customers with their moves – whatever the size of the operation, and whatever the distance we need to transport your consignment! Irrespective of what you need our services for – whether we're collecting items you've purchased online from a retail outlet and ferrying them home for you, helping you transfer important items to a new house or office environment, or move excess bulk from your lodgings/premises to a storage facility, or dump – we approach the job professionally and enthusiastically. Every member of our man and van services team, from the movers to the drivers, are professionally trained and have years of expertise in their field. You'll be genuinely amazed at how efficiently they pack loads, how effortlessly they carry heavy cargo, and how proficiently they navigate the roads of the UK! Our commitment to quality man with van services doesn't stop there, either – we only use the finest packing materials and accessories, in order to guarantee that loads are as compact as possible, whilst being supremely safe and sound when they're transported. Our team are also tasked with helping you as much as they can, and this includes giving you expert advice and helpful input throughout the moving experience. Their job isn't done until you're completely satisfied, and they'll ensure you're happy before they leave your side!
We also provide you with premier quality man and a van services at unbelievably low prices. We simply don't deal with hidden charges or 'added extras'; the price we initially quote you will be the price we charge you on the day, and the only services we charge you for are the services you receive. We're confident that we can't be beaten on price by any other van and man company or removal services company. Why not give Moving Day a call now on 020 8746 4377, and see for yourself!
Our Testimonials
I dig the services of Moving Day. They are the masters of moving houses.
After my uncle passed, my aunt made the terrible choice of leaving the home they have lived in for years. We got together, and booked this man and van company after searching the net. Great choice! They understood our crisis, and laid out a plan which resulted in a pain-free relocation. Please consider this firm, it really does know its business.
I was really impressed by Moving Day moving services. It's a great man and van company.
I loved the office removals services offered by Moving Day. They were equipped to the teeth when they moved our office furniture.
Show all