For the best removal services ever, opt for our South East London removal services – you won't regret it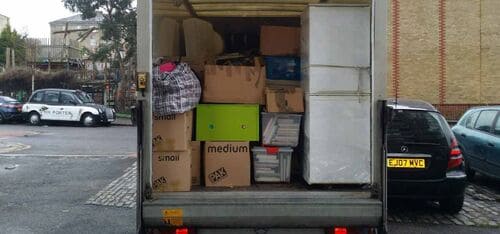 Your move to South East London can be a piece of cake if you hire Moving Day to help you with it. There is no better way to start a move than with a professional, reliable removals company like us. We have, over the years, provided clients with great removal services to meet their every need and we can assure you that if you hire us for your move to South East London, you will not regret it. We offer the following removal services: South East London home removals, office removals, man and van removals, packing and also storage services. All of our services are carried out by only the finest team of movers. Your move to South East London is therefore guaranteed to go well and you will not have any problems along the way. If you wish to find out more about our removal services, please get in touch with us today on 020 8746 4377 and we can provide you with all the information you need. There is no need to get all stressed about your move. We can handle it and we promise that your move will be far from stressful. It will be the best and easiest move by far. Give it a thought.
South East London covers the eastern part of South London and we have to say, this area of London is rich in places to see and things to do. There are many parts of it that must be explored, so go on and explore them. It is a cultural area with many wonderful sights. Here, you will find endless art galleries, museums and of course, the excellent, popular and notable London Eye. The paths here go past the famous River Thames and it really is a delightful place to walk around. You will instantly fall in love with it here. There are many places to see whilst you are here and you will love the life here. South East London is a great place to live and work so you will definitely enjoy yourself in this part of London. There are plenty of amenities here too for you to use and you won't be short of your needed things.
Moving Day is a reputable and reliable removals company offering a full range of South East
London removal services which are as follows: home removals, office removals, packing services, man and van removals and finally storage services. Our great team of South East London movers are superb at what they do and they work hard and with great efficiency, so your move to South East London will be great and smooth and 100% stress-free. There is no doubt about it, your move will be great if you count on us for help. We can assist you with your move and we promise to make sure it is smooth and hassle-free. We also realise that few of you have lots of cash to spare. For this reason, we keep our prices down because we want all of our removal services to be accessible to you and we don't want to burden you with big sums. Your South East London move is destined to be easy as long as you put your trust in us. For a free removals quote, call us now on 020 8746 4377.


Our Testimonials
These guys are the bomb in South East London. They are the pros of house removals.
I had sleepless nights wondering how to move my items to my new home. Luckily, I was referred to this moving company and boy they impressed me. They had moved me in a very short period of time from South East London.
Unbeatable removals service! Prices are good and their work output is swift and quick! Moved us to South East London, without effort.
Their prices were out of this world I could not believe such impressive services might be that fairly priced. I am recommending this moving company to everyone close to me.
Show all